The current state of Change
It has been three months since the Drive Change campaign held its first Supporters & Stakeholder meeting. At the meeting, the Drive Change team presented why this campaign is crucial for future and existing patients. The team also asked both industry (product producers, importers and suppliers and the industry bodies to provide support.
Since December, Drive Change has gained massive traction and has raised seed funding of roughly $11,500. With those funds, the team has been able to spend time working on initiatives that have led to:
Partnership with Tammy Franks MLC from South Australia.
Expanded our social presence.
Reaching over 35,000 people via Drive Change channels in the last 30 days.
Helping individuals disadvantaged by these laws to find legal counsel.
And sharing patient stories with decision makers.
These are all significant steps toward making some long overdue legislative change.
Presenting to the AMCA
On Tuesday 20th April (yes, 4/20), David Heilpern and Tom Brown, members of the Drive Change Team, presented to the Australian Medicinal Cannabis Association (AMCA) Board. The AMCA is one of two industry bodies. The AMCA is the patient focussed industry body. The AMCA has supported the Drive Change campaign from the beginning and has now given us the opportunity to tell them what we need to work for Australian patients. 
It was an honour for the Drive Change team to speak to such an influential group. Readers of this may not know, but Lucy Haslam is the chair of the AMCA. Lucy was a driving force behind the legalisation of Medicinal Cannabis in Australia. Lucy has been an ambassador for change for years now, and we are excited to have her support and backing to help fight these injustices. 
Uniting industry, patients and government
We were excited for the chance to encourage AMCA's industry members to get behind the campaign. Drive Change is an opportunity for the industry to unite with one message and to join others in being a voice for patients, Australia-wide. Drive Change is an excellent opportunity for a coordinated and collaborative campaign that can bring industry, patients and political figures together for change.
Drive Change is an excellent opportunity for a coordinated and collaborative campaign that brings industry bodies such as AMCA and the Medicinal Cannabis Industry Association (MCIA) and patients and political figures together.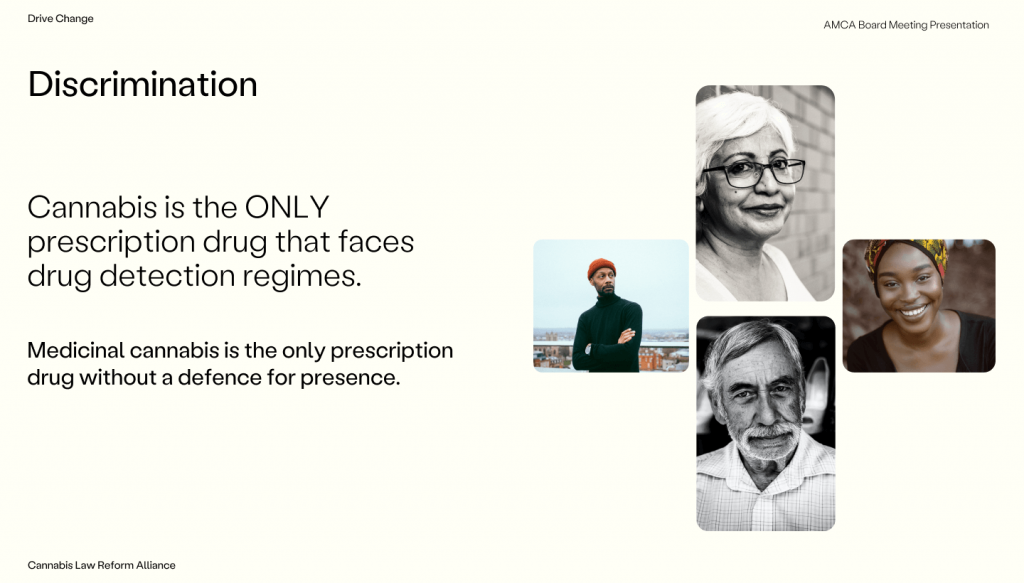 Our current discriminatory laws depict individuals who need a better quality of life as criminals. The laws are destroying the lives of patients taking a medication that their healthcare practitioners have prescribed.
We believe that together we are stronger. Together we can make a Change.
A Challenge For Change
Drive Change is a non-profit organisation. To date, the Drive Change campaign has raised about $11,500 that has been put toward changing the current laws for patients.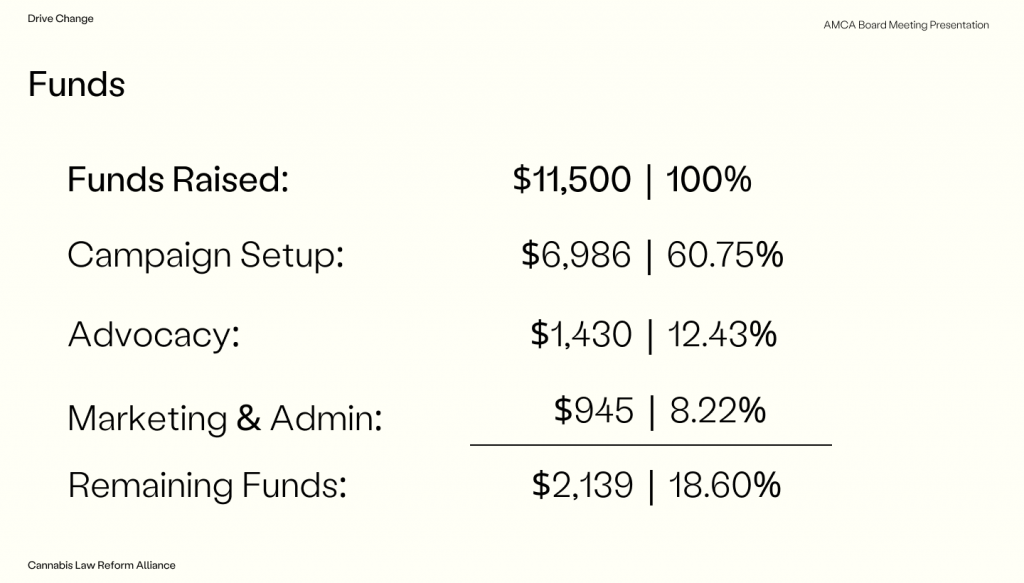 To date we've spent most of that money on campaign setup. Now we can shift our focus to Advocacy and marketing the Drive Change campaign.
Harm Reduction Australia provided a startup fund of $5,000.
Patients – the individuals we're working for have donated about $1500.
In an industry of over 100 companies – only 5 of those companies have donated for a total of approximately $5,000. It is our hope that all companies will support and donate to this important campaign for patients.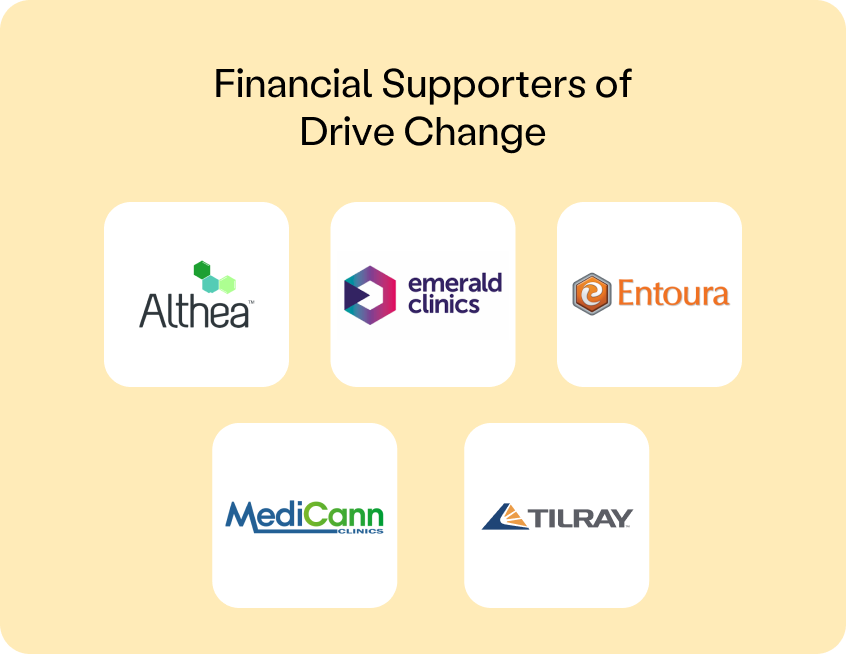 With industry bodies like the AMCA holding membership of all types of cannabis industry stakeholders, we have been generously supported by their Board to help us raise funds. The AMCA membership is made up of over 100 companies and individuals, all of who have some stake in the cannabis industry that is – patients.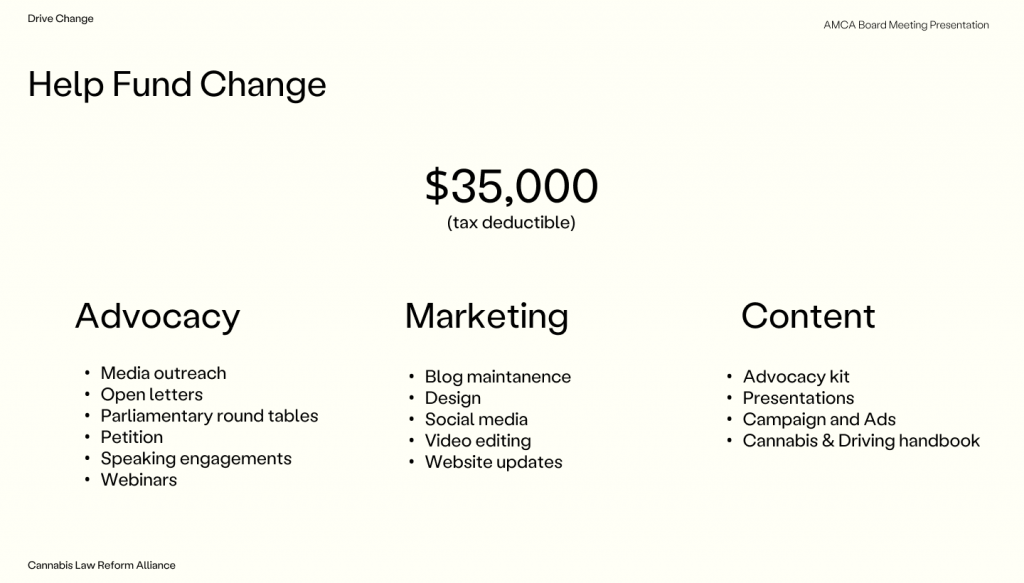 We asked the AMCA to help us raise $35,000 tax-deductible dollars from its members to help change laws that will benefit medicinal cannabis patients. This is our Challenge for Change.
If we can raise $35,000 from the AMCA members and $35,000 from the MCIA members – we should have enough funds to run Drive Change for a long enough period to make a real difference.
Conclusion
The industry must do better. The industry associations have the ear of the industry. The industry and these organisations have the ear of the government – that's what big dollars do.
Patients need the entire industry to start financially supporting advocacy efforts or, to put it bluntly, start putting their money where their mouths are.
The industry is made up of manufacturers, licensed producers, clinics, importers, exporters – any company that makes money from patients or is here to serve patients. We need your help. Most importantly, patients need your help.
Without a coordinated effort to Change this outdated and unjust law, patients will continue to suffer and be punished.
For patients reading this – we need you to pressure both government and industry bodies to get behind the Drive Change movement.
We look forward to keeping all of the Drive Change supporters up to date on our progress and the outcome of all of our future efforts.
Once again, we'd like to thank the AMCA and the AMCA board for allowing us to present Drive Change to the board and its members.